Powerful Recruiting Management Software for Enterprises
Skillfuel is the ultimate free recruitment platform to manage the full hiring life-cycle. Sign up today to make your recruitment process more efficient with automation and collaboration.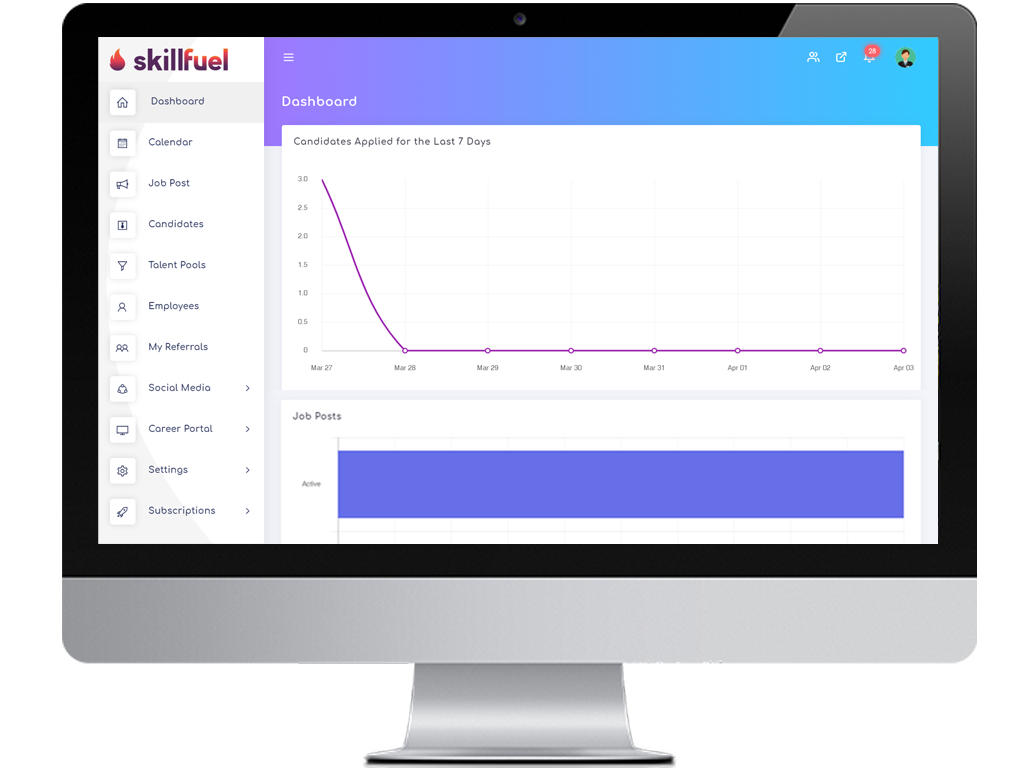 Why Invest in HR Recruitment Management Software for Large Businesses?
Recruitment is a continuous process in a dynamic and ever-evolving job market. For large enterprises like yours, this means that your hiring team is always on the lookout for emerging talent. However, the growing need to identify the most qualified employees in your industry can harm the efficiency of your team if you don't have free online recruitment tools. After all, sourcing great talent takes time, focus, and effort. If your hiring team spends most of their shift on administrative tasks, they can lose the best applicants to your competitors.
With enterprise recruitment software on board, your HR team can automate various hiring processes and focus on more valuable tasks such as engaging candidates and nurturing a growing talent pool. Not only do the automation features save hours of work, they also let you reach far more candidates and identify the ones who best fit your openings.
See our pricing plans and see whichever may fit your needs. We even have a free plan for you to try.
Skillfuel Features to Streamline Your Recruitment
You can quickly ease the pain points listed above and many other recruitment problems by powering your hiring process with Skillfuel. Our recruitment software for enterprises is packed with the following features:
With an intuitive dashboard and seamless search functionality, you can stay on top of each candidate's status in the hiring life-cycle.
Proactively identify the most qualified candidates in your company's existing collective network. In one beautiful UI, uncover key insights with progress reports, leader boards, and conversion charts.
Keep all of your candidates and interviewers on track for scheduled interview times. You will also cut down on human error such as overlapping schedules, double bookings, and inaccuracies in candidate details.
Transform your Career Page into a talent magnet with Skillfuel's job portal website development features. You can create career pages that are easy to build and visually appealing.
Drive qualified job seekers from popular social media channels like Facebook and LinkedIn directly to your Career Page and listings on job portal sites.
Main Problems of Recruiters for Enterprises
Before investing in enterprise applicant tracking systems and recruitment software, you need to know the problems it solves. The most common issues that often slow down the workflow of hiring teams in large companies include:
Without an immediate and seamless information flow between all members of the hiring team, you may find your employees handling the same mundane tasks, thus wasting both time and money. During the recruitment process, it is crucial for recruiters to collaborate with their team members and regularly send updates to one another so that they can easily handle all the operations.
Recruiters often find themselves sifting through piles of job applications and resumes in order to find the perfect candidate. No matter the format, keeping track of all the CVs your company receives is almost impossible. This may lead to problems in hiring regulations (e.g. length of time you can keep confidential candidate records) and, more importantly, making a bad hire.
When your hiring process takes too much time, you can lose the best candidates to your competitors. This is especially applicable for challenging industries such as engineering and IT. Manually performing all of the operations slows down your workflow, which can both frustrate your recruiters and have a negative impact on the experience of your candidates.
Skillfuel: The Ultimate FREE Recruitment Software for Enterprises
From sending job invites and posting on portals to tracking employee referrals and scheduling interviews, Skillfuel's HR recruitment software for enterprises will help your team work faster and smarter. It's much more than just an applicant tracking system — it's the complete platform for all your hiring needs so you can have a more efficient recruitment process.
Skillfuel's free enterprise recruitment software enables your team to: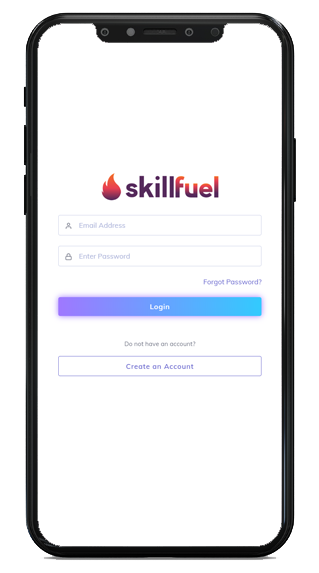 Speed up the recruitment process
You can access all the necessary information and reach candidates anywhere, anytime. and you are always updated as all changes are introduced automatically to the system. The system also automatically updates all actions taken on each candidate, with all of your comments and notes attached. Plus, your team can save hours of administration work once you automate job postings on various job board sites.
When you store all job applications and resumes in one place, you can say goodbye to filtering through piles of papers and spreadsheets.
Storing all the resumes and CVs in one location lets you find better candidates in a much shorter time period. As you can classify the CVs into various categories, you can also filter them while searching for applicants with specific skills. That way, you match potential candidates to the most suitable positions.
Using the enterprise recruitment software, each member of your hiring team can stay updated on all the tasks they're handling. They can also see all the comments and feedback on each candidate, helping the team make more informed decisions.
Improve Your Recruitment Process
Today with Skillfuel
As a free recruitment management software, Skillfuel lets you improve your recruitment process by letting you do all hiring-related tasks in one place. No more confusing spreadsheets and manual documents to keep track of all your candidates. From the moment candidates apply, your recruitment team can email, track and manage them in Skillfuel, making it easier and more efficient to hire great talent.
Recruiting is a team sport. Skillfuel makes collaboration a breeze with an intuitive and user-friendly platform, interview schedules, social media automation and more.
Sign up to get the software today.
Ready to Become a Talent Magnet?
Hire faster and easier with Skillfuel, the only free recruitment software you'll need for rapid and efficient recruitment. For more information and enquiries, don't hesitate to fill up our contact form.