Skillfuel's Employee Referral Software: The Ultimate Network Recruiting Platform
Unlock the potential of your company's network with Skillfuel's employee referral tracking software. One of the many features within Skillfuel's Recruitment Management software, it's the game changer you need in your hiring process. Get a free account. It's risk-free and easy.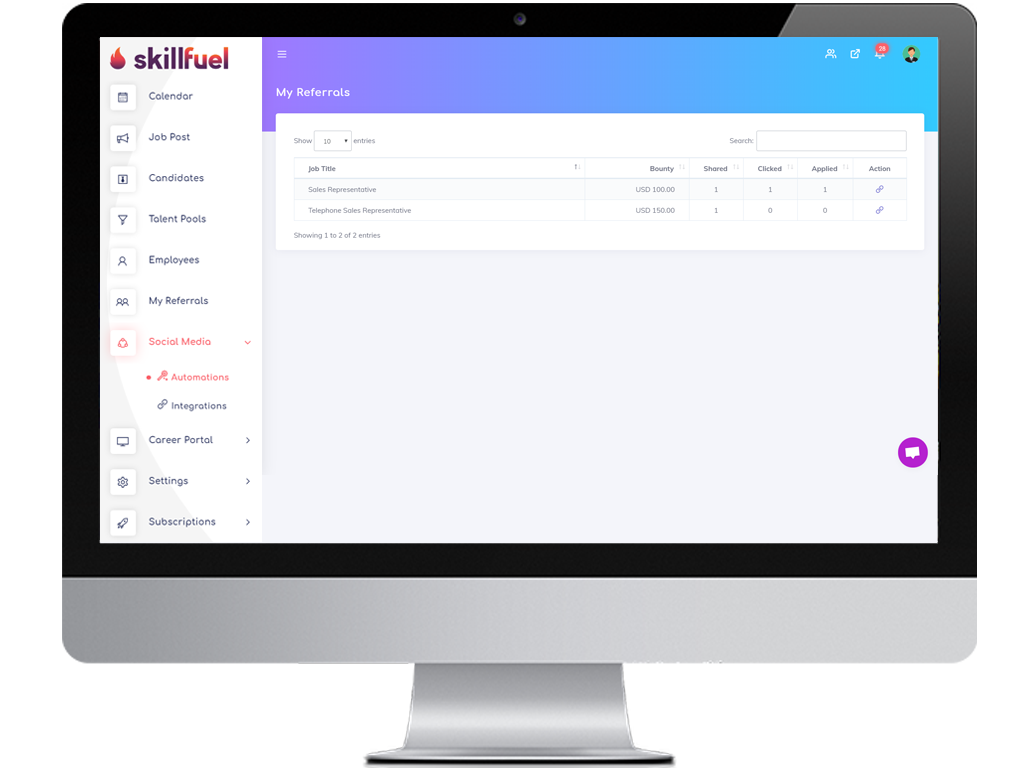 Skillfuel's Employee Referral Software Makes Sourcing and Hiring Candidates Effortless
Your colleagues? They're great, and they know a lot of great people too. With Skillfuel's employee referral platform, you can harness the power of your employee's network to source high-quality talent, without tapping out your resources.
Introducing Skillfuel's Employee Referral Tracking Software
Skillfuel automates distribution and tracking of referred candidates, eliminating the bottlenecks in a manual referral process.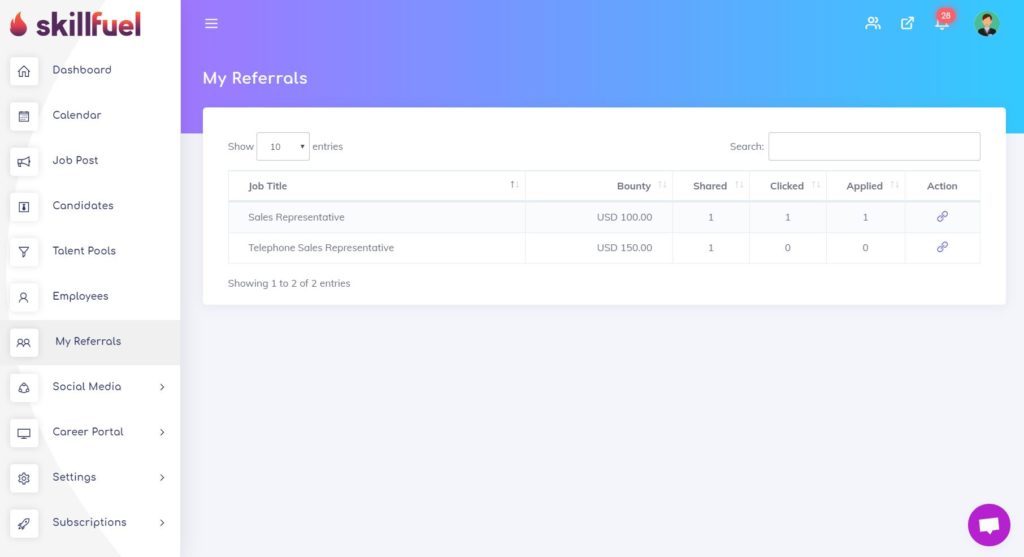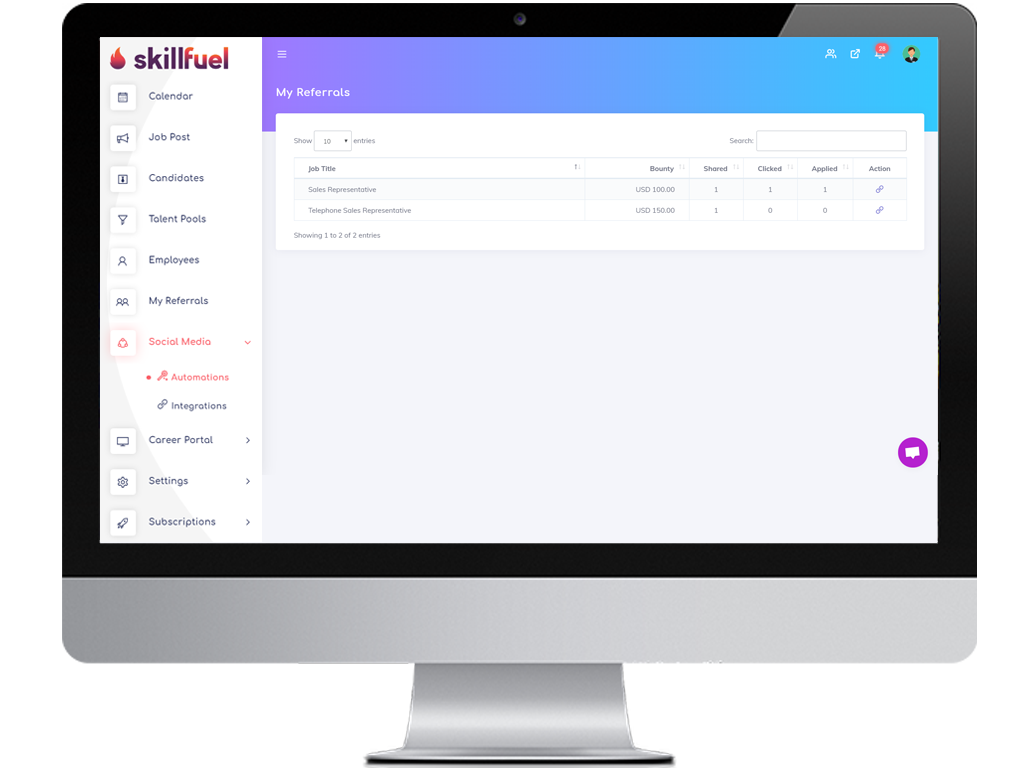 With an advanced algorithm, our employee referral platform ensures that each message sent to employees is optimized for engagement and participation.
Easily manage your talent and employee network incentives by job-type. Skillfuel's employee referral software can automate probation periods and notifications to payroll for payouts, ensuring better tracking and accountability.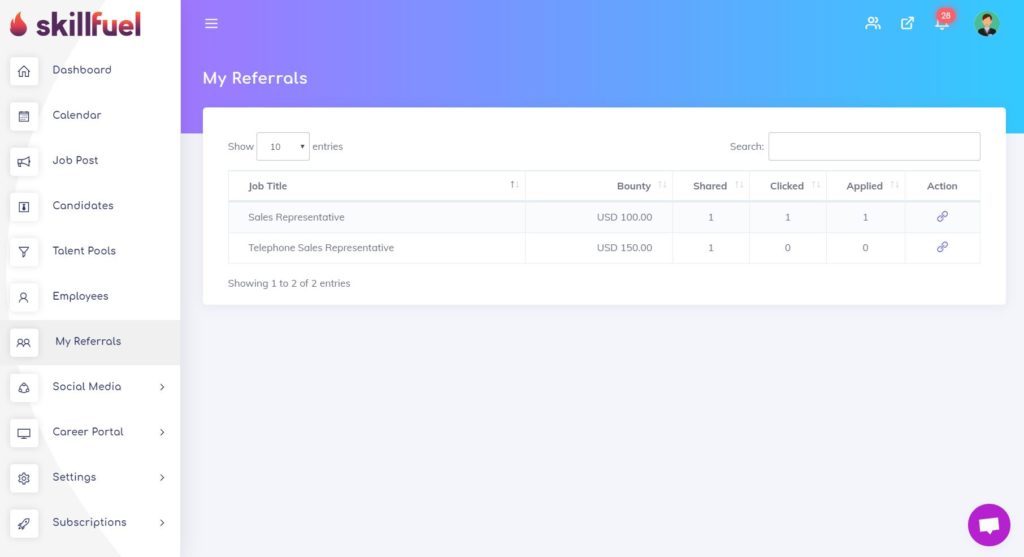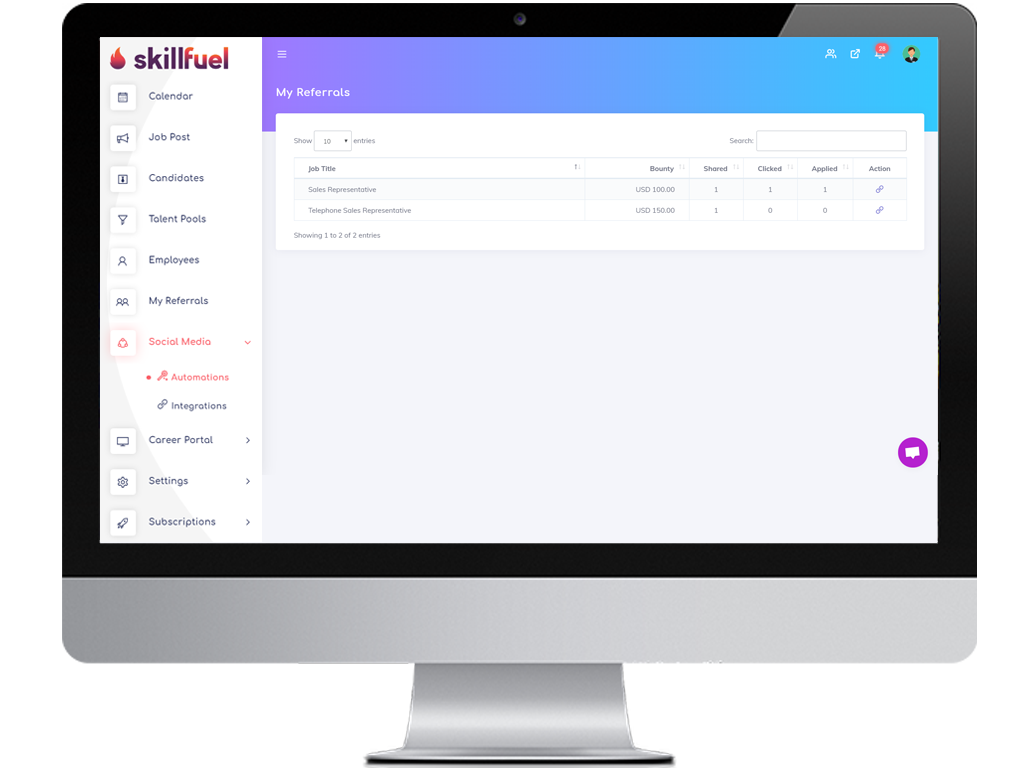 By connecting to all of the features in Skillfuel's HR recruitment software and ATS, we provide a seamless experience for your recruiters. It also gives your hiring team the ability to consolidate all candidate profiles and employee referrals in a single database.
See our pricing plans and choose the perfect one for you. There's even a free plan for you to try.
Change the Hiring Game with Skillfuel's​ Employee Referral Software
Find and engage the best talent
Keep everyone in the loop
Skillfuel pricing gives you complete flexibility to pay according to your requirements.
Our pricing model for the Skillfuel Recruitment Management Tool depends on your usage and the features you request. For more information about our free trial and pricing, sign up with us today.
Easily keep track of your employee referrals throughout the recruitment process. Skillfuel's employee referral tracking software manages and pushes referral data from the software to your ATS to ensure nothing slips through the cracks.
With an easy-to-use interface, it's quick and simple for your entire team to adopt. When you introduce our employee referral software to your recruiters, they'll immediately get it, even the beginners.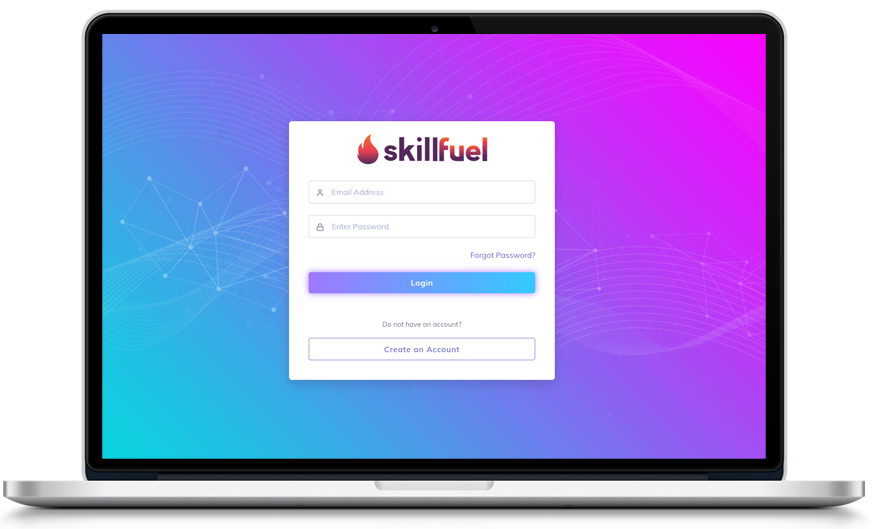 Powerful reporting and analytics
With Skillfuel, you get a clear and detailed view of where your referrals are coming from. The platform's customizable analytics ensure you're always ready to present your ROI.
Employee engagement and high adoption rates
Referring with Skillfuel is as easy as it is engaging. Employees who refer more candidates to open positions receive dynamic rewards, making referrals feel less like work and more like fun.
Accessible and transparent
Employee referrals no longer need to be a black hole! Employees deserve immediate and positive feedback when they submit a top-notch talent.
Guides for


Employee Referral
Programs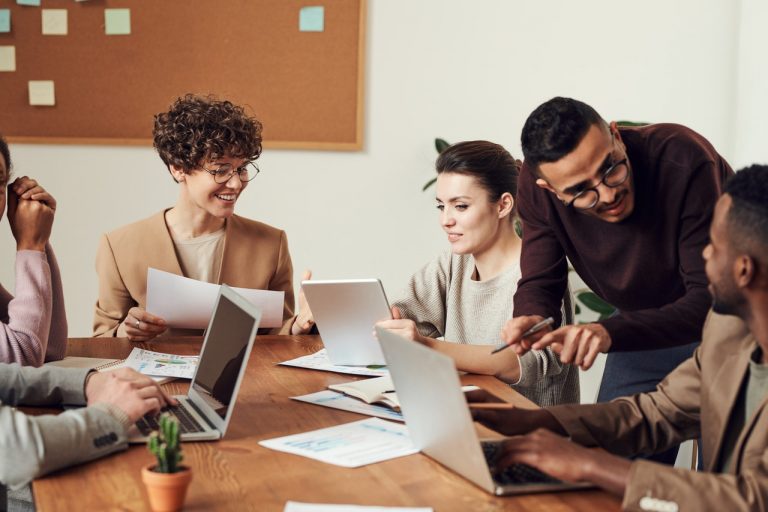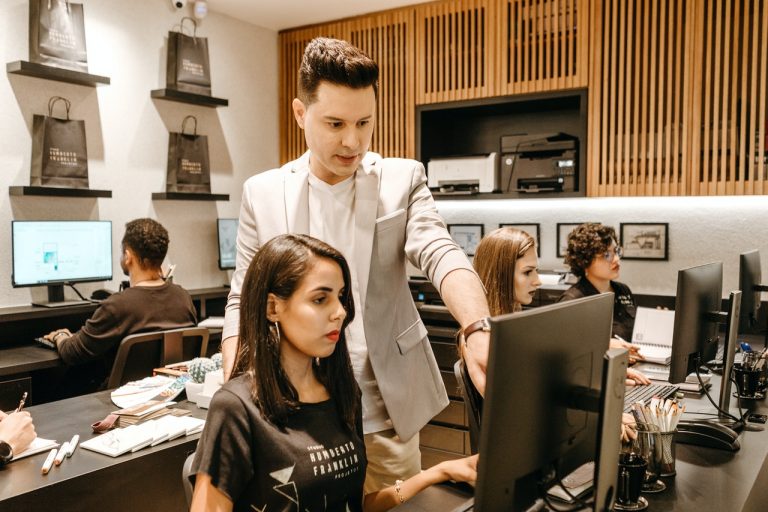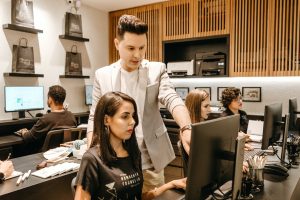 There's a better and much more cost-effective way of ensuring you secure high-quality candidates and that's through employee referral programs.
With a well-designed referral program, you don't have to pay for recruiter commissions or ad placements. Referrals make your HR recruitment process much more manageable.
With Skillfuel's referral tracking software, you can keep your employees automatically up-to-speed on feedback, open positions, and the referral progress.
Hire faster, hire easier.
For more information and inquiries about our recruitment management software, reach out to us and fill up our contact form.